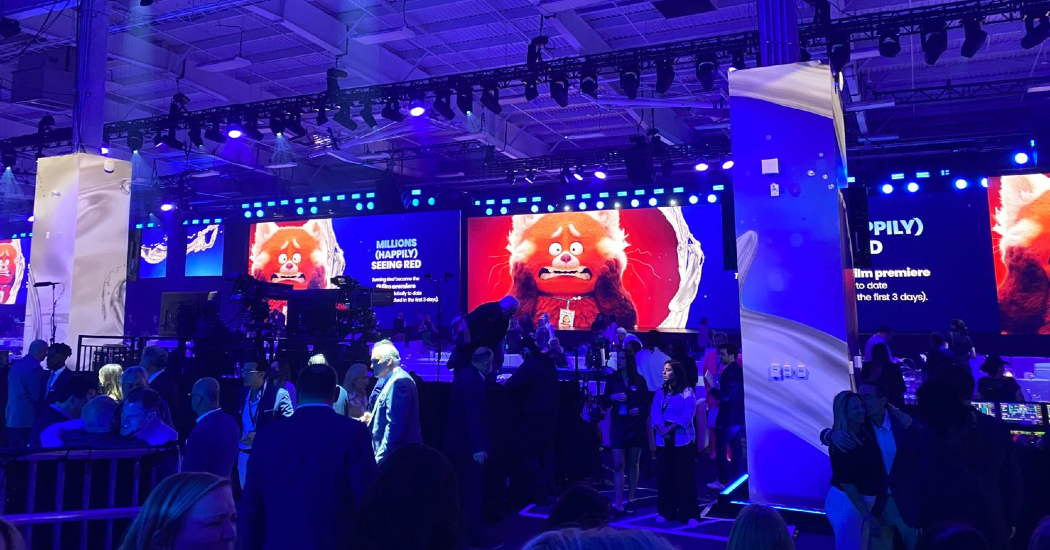 06.21.22
Robin Cohen, EVP Integrated Media Investment and PlanningStaci Otterson, VP Media Director, Integrated Media Investment
Overall Themes:
Content was the number one theme across the board, with each network group touting the success and breadth of current content. There has also been a reinvigorated focus on diversity within content.
For the first time, linear broadcast content took a very noticeable back seat to streaming platforms; Peacock, Tubi, Hulu, Disney+, Discovery+ and Paramount+
Heavy investment in Streaming Shows/ Movies, with relatively few new linear broadcast programs
Networks are leaning into sports with heavy promotion of current sports rosters across NBC, FOX, Disney, Paramount, and Warner Bros. Discovery
The following provides a recap of the highlights by network group:
NBC Universal
Properties: NBC, Peacock, Telemundo, Bravo, E!, Oxygen, Syfy, USA, CNBC, MSNBC
Major themes:
NBC Universal One Platform = Premium Content – #1 TV portfolio by total audience

Content-first approach
Success of current programs across linear and streaming
Focus on live content and events
New programming (highlights):
NBC: Quantum Leap (revamp of the original), Night Court (spin-off of original), Lopez vs. Lopez (new George Lopez comedy), Mountain Magic Christmas (new Dolly Parton holiday movie special) Peacock Originals: Bumper in Berlin (Pitch Perfect), Bupkis (Pete Davidson), Ted (comedy based on movie)
Peacock Original Films
Same-day releases in theater and on Peacock
Attribution and Currency Updates:
NBC Unified: enterprise data and identity platform

Unifies first-party data sets from across NBCU
Roll out starting in Q2 2022 will include 150 million unique person-level NBCU IDs mapped to 80 million households to be used for audience targeting
The iSpot partnership was not referenced
Disney
Properties: ABC, Hulu, Disney+, ESPN, ESPN+, FX, Nat Geo
Major themes:
Content and sports (most trusted brand in sports), with a focus on women in sports
Storytelling
Inclusion marketing
New programming:
Hulu: Reasonable Doubt (drama), Fleishman is in Trouble (drama), Welcome to Chippendales (dark comedy)
Disney+: Movies debuting later this year: Disenchanted, Hocus Pocus 2
Focus on Marvel Studios: She-Hulk series: Attorney at Law
Disney released the fall ABC schedule prior to the Upfronts but but did not focus on their new programming in the presentation.
Warner Bros. Discovery
Properties: Discovery, HGTV, Food, Magnolia, TLC, CNN, TBS, TNT, TruTV, Discovery+, HBO, and HBO Max.
Major themes:
Merged company is largest maker of television and motion picture content in the world
Has a larger audience in prime (ages 25-54) YTD than any of the broadcast networks – driven by sports
Digital platforms – download recipes, watch sports highlights, shoppable messaging
94% live prime viewing – "sports is the new prime"
Emphasis on Discovery+ & HBO Max
New programming:
HGTV: The Great Giveback (Melissa McCarthy), Lil Jon Wants to Do What?
The Jennifer Hudson Show – new daytime talk show (produced by Warner Bros, will air on Fox stations)
Discovery partnership with Ellen DeGeneres – nature/wildlife content
TBS series with Sarah Silverman – Stupid Pet Tricks
Discovery+: 200 originals in first year of Discovery+
HBO Max: Father of the Bride remake (Andy Garcia & Gloria Estefan), Velma (Mindy Kaling), Peacemaker (John Cena), Lizzo Documentary
Attribution/currency and other updates of note:
National linear addressable now in 60% of pay TV households
Data-driven linear – OpenAP for cross-publisher insights
Expanding programmatic self-service buying
Exploring new ways to measure audience – ComScore, iSpot, VideoAmp
Paramount
Properties: CBS, Paramount+, Comedy, MTV, VH1
Major themes:
Heavy focus on streaming content
Paramount+ has 80 million monthly full-episode viewers, on track to have 100 million subscribers by 2024
Inclusion marketing/content
Highlighted partnership with Tyler Perry with eight shows currently in production
Live sports
New programming:
Paramount+ series: George and Tammy, Tulsa King with Sylvester Stallone
CBS: The Real Love Boat (dating show), So Help Me Todd (drama), Fire Country (drama), East New York (drama)
Mid-season:
True Lies (drama), Lingo (gameshow)
FOX
Properties: Fox, Fox News, FS1, Tubi
Major themes: Heavy focus on sports and news
New programming:
Fox Broadcast

Dramas: Accused, Alert, Monarch
Animated: Grimsburg
Reality: Gordon Ramsey Food Star
Current Highlights:
Fox Sports
NFL: Home to two of the next three Super Bowls
College Football
FIFA World Cup 2022
MLB
NASCAR
USFL
Friday Night Smackdown (#1 among P18-49)
Tubi: The largest free on-demand ad platform with 40,000+ titles
For the first time, all World Cup games will be streaming on-demand at no cost