Rain the Growth Agency Secures Mercari as Presenting Sponsor of SHAQ Bowl Pre-game Extravaganza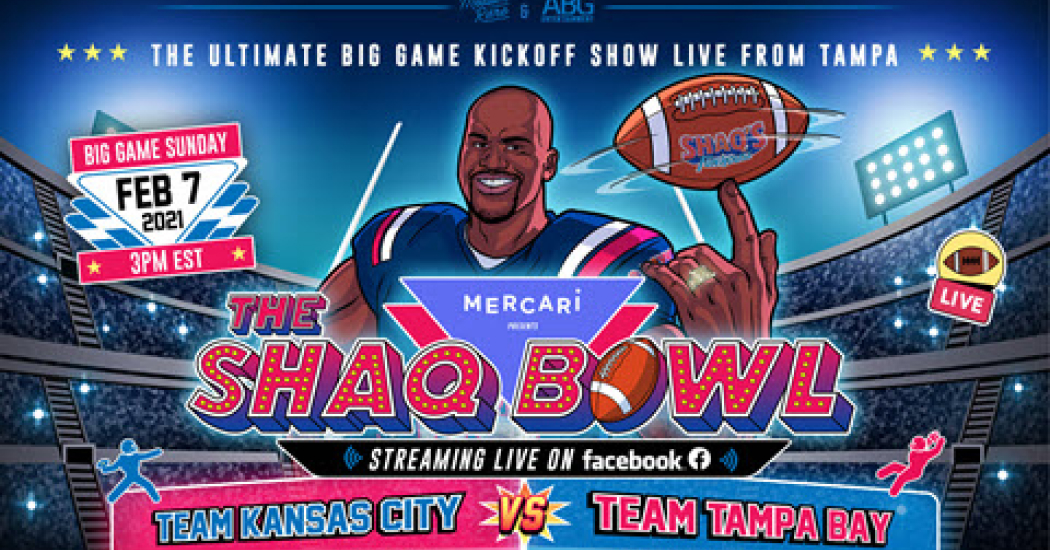 01.29.21
Independent, direct-to-consumer advertising agency Rain the Growth Agency has aligned its client Mercari, the popular online marketplace that connects millions of people across the U.S. to exchange items no longer being used, with a marquee sponsorship opportunity in a streaming event ahead of the Big Game.
With a legacy as Big Game Weekend's most in-demand and buzzed about event, Shaq's Fun House returns in 2021. "Mercari Presents The SHAQ Bowl", which is being dubbed as the biggest pre-game extravaganza, will be live-streamed ahead of the Big Game on Sunday, February 7, 2021 at 3 p.m. ET/12 p.m PT. The event is free to watch and will be broadcast by SHAQ on Facebook Live, as well as via LiveXLive, a global platform for livestream and on-demand audio, video and podcast/vodcast partners including Samsung TV, SLING, STIRR and LiveXLive's channels on YouTube, Twitch, TikTok, Twitter and more.
Shaquille O'Neal is set to bring his unrivaled game-day energy to millions of living rooms with the ultimate Big Game Sunday Kick-Off Show broadcasting live from Tampa in a custom built SHAQ Bowl stadium. The all-new SHAQ Bowl will feature athletes, celebrities, and superstar artists across two teams, competing in fun and viral challenges to win the first ever SHAQ Bowl Trophy!
Mercari has also committed to airing a spot within the televised broadcast of the Big Game. The 15-second spot is part of the "Goodbye, Hello" campaign that was produced by Rain the Growth Agency. The agency is also Mercari's media agency of record, and executed the media buy to secure the airtime with CBS. Rain the Growth Agency's Strategic Partnerships team planned, negotiated and managed the terms of the SHAQ Bowl presenting sponsorship.
"With no in-person events this year, I teamed up with Mercari to create The SHAQ Bowl and connect Americans on the biggest day for sports of the year," said Shaquille O'Neal. "Featuring a ton of my celebrity friends competing in viral challenges, plus superstar musical artists all live from Tampa, prepare for the most fun and action packed Big Game Sunday show ever!"
"SHAQ is one of the biggest names in sports and entertainment, and has an unparalleled ability to bring people together and inspire change," said Shasta Gibson, Director of Strategic Partnerships at Rain the Growth Agency. "It was only fitting that we create a partnership with him and Mercari, as they establish themselves as the leader in connecting people all over the country to not only exchange items easily and safely, but truly evolve the way we shop. The timing and massive audience of this event are the perfect stage for our new campaign, and we're thrilled to be supporting it."
Hosted by NFL Hall of Famer Terrell Owens and 4x Pro-Bowler Chad "Ochocinco" Johnson, featuring an unprecedented lineup of celebrity talent, SHAQ is inviting America to join him for the largest kickoff event of all-time.
The full list of participating talent includes:
Team Kansas City – Diplo, Ezekiel Elliott, Olivia Culpo, Quavo, Steve-O, The Miz
Team Tampa Bay – Anthony Anderson, Drew McIntyre, Nelly, Offset, Tim Tebow, Winnie Harlow
About Mercari
Mercari is your marketplace. Our platform connects millions of people across the U.S. to shop and sell items no longer being used. Mercari is constantly innovating to make exchanges easier, from at-home authentication to improvements in online payments and shipping. Mercari has more than 50 million downloads in the U.S. and 350,000 new listings every day, empowering the next generation to transform the way they shop. Mercari can be downloaded on app stores or accessed online through www.mercari.com.