Rain the Growth Agency Co-Founder Michelle Cardinal Invests in Seattle Storm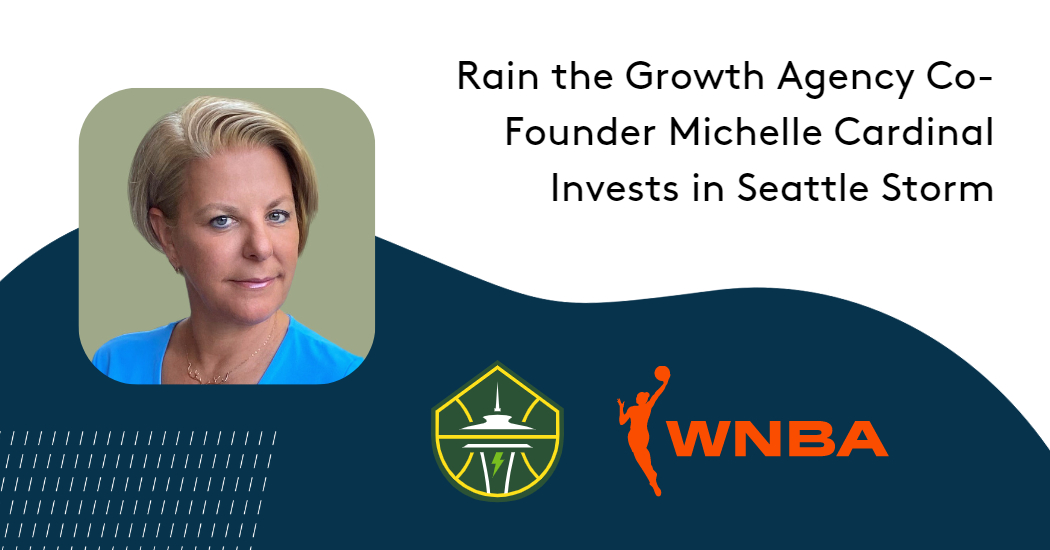 05.23.23
Investment in WNBA Team Underpins Growth Opportunities in Women's Sports
Rain the Growth Agency, a leading independent, fully integrated performance advertising agency, has announced that Co-Founder and Chairwoman, Michelle Cardinal, has invested in the Seattle Storm. The WNBA team's recent equity sale was headed by Cardinal and joined by eleven other investment groups, which will fund the development of the franchise's $64 million private practice facility.
Seattle Storm games are consistently the highest attended in the league and the four-time championship team holds the highest valuation of a WNBA franchise to date of $151 million. Construction is underway for the Seattle Storm Center for Basketball Performance, a 50,000 square-foot facility in Seattle's Interbay neighborhood, which is scheduled to be completed before the 2024 season. The Storm facility is the first to be intentionally built by women, for women.
"I couldn't be more honored to become part of this amazing group of women at the Seattle Storm. As a longtime resident of the Pacific Northwest, I know there is no fan base or community more loyal than the Storm's, with frequently sold-out games in the 18,000 seat Climate Pledge Arena," said Cardinal.
"We are excited to have a leader of Michelle's caliber as part of our ownership group. Her experience in media and advocacy for women are an amazing fit for our group," said co-owners Lisa Brummel and Ginny Gilder in a joint statement.
"In my more than 30 years working in media I haven't seen anything like the meteoric rise in WNBA viewership, making this an exciting investment. I want to be a part of the legacy the WNBA is building," said Cardinal. "Forever more, millions of young women will look up to athletes that look like them and be inspired to become great because of them."
Access to WNBA games has increased exponentially with national TV broadcasts across major media properties such as ABC, ESPN & ESPN2, CBS Television Networks and ION. The league has also inked streaming deals with Paramount+, NBA TV, CBS Sports Network, Prime Video and Facebook Watch. According to Nielsen, 2022 was a breakthrough year for WNBA viewership, which surpassed men's Major League Soccer for the first time. Viewership for the first WNBA finals game last year was up 171% over 2021, according to Samba TV. Beyond big screen viewership, social media and digital channels further amplify the rising impact of women's sports and female athletes. ESPN's social media team doubled its number of WNBA social media posts in 2022, which resulted in 193 million video views, a 90% increase from 2021.
More data about women's sports fans and this growing viewership are featured in Rain the Growth Agency's May 2023 Media Impact Report.
About Rain the Growth Agency
Rain the Growth Agency is an independent, women-led, fully integrated and performance-minded advertising agency. We link brand strategy, creative and production with audience targeting, dynamic cross-channel media investment and advanced analytics to achieve sales and branding goals simultaneously, without compromise. Our holistic Transactional Brand Building approach produces transformational growth for our clients ranging from DTC fast companies and category disruptors to established brands. Clients include Humana, Lending Tree, CenterWell, 1-800 Flowers, Rothy's, Headspace, OOFOS, Lume and BISSELL. Headquartered in Portland, Oregon since 1998, our agency has 300 employees nationwide.
Media Contact Information:
Beatrice Livioco
Director of Marketing
Beatrice.livioco@rainforgrowth.com