Mercari Named the New Title Sponsor of the Texas Bowl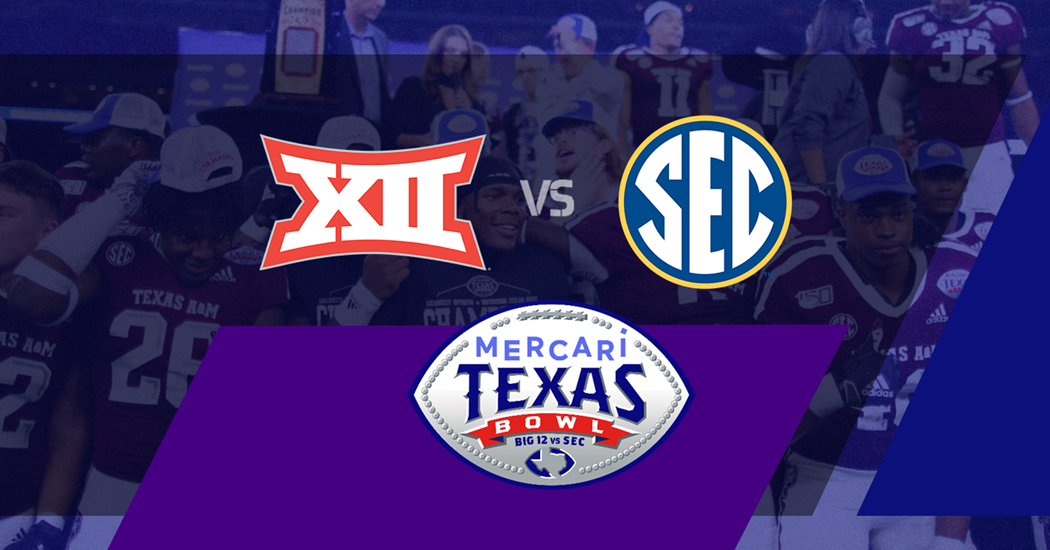 12.14.20
HOUSTON – Lone Star Sports & Entertainment and ESPN Events today announced Mercari, Inc. (Mercari US) as the new title sponsor of the Texas Bowl, an annual collegiate postseason showdown between teams from the Big 12 Conference and the Southeastern Conference. Entering its 15th year, the Mercari Texas Bowl is owned and operated by ESPN Events, a division of ESPN, and managed locally by Lone Star Sports & Entertainment, an event management company founded in 2003 that is closely affiliated with the NFL's Houston Texans. The title sponsorship with Mercari US is being managed by its advertising agency of record, Rain the Growth Agency, and was brokered by Denver-based Impression Sports & Entertainment.
The 2020 Mercari Texas Bowl will be played on Thursday, Dec. 31, at 7 p.m. CT, at NRG Stadium in Houston and will air on ESPN. The bowl is one of 17 bowl games owned and operated by ESPN Events.
The Mercari Texas Bowl has ranked fifth in bowl game attendance since 2016, averaging over 65,000 attendees annually and trailing only the Rose, Peach, Fiesta and Orange Bowls in that time. The Bowl will host up to 13,300 fans this year at NRG Stadium due to COVID-19 parameters.
"Mercari is thrilled to serve as the title sponsor of the Mercari Texas Bowl in Houston, Texas" said John Lagerling, CEO of Mercari US. "This has been a challenging year for many Americans, and Mercari is committed to supporting the needs of everyone who loves and contributes to our marketplace. At its core, Mercari is about connecting people and we are looking forward to bringing football fans around the country together to enjoy the storied tradition of this iconic game."
The Bowl has generated an average impact of over $30 million annually for the Houston economy. Through the Bowl's relationship with DePelchin Children's Center, its official charitable beneficiary, nearly $2 million in financial support has also been donated to the city's oldest children's charity.
"We are excited to welcome Mercari as the new title sponsor of the Texas Bowl," said David Fletcher, Executive Director of the Mercari Texas Bowl. "The Mercari Texas Bowl has become one of the biggest college football events in the country through a strong partnership with the Big 12, SEC and many great supporters in the Houston community. We are thrilled to add a partner in Mercari, one of the most exciting new brands and e-commerce platforms in the U.S., to further elevate the event and the experience."
In the 2019 Bowl, the Texas A&M Aggies were victorious over the Oklahoma State Cowboys in a 24-21 shootout in front of a crowd of 68,415. The 2019 game was among the top-five most-attended bowls in the country for the fourth consecutive year and was also one of the top-ten most watched bowl games of 2019.
For more information on tickets and safety protocols in place for attendees, visit mercaritexasbowl.com or follow on Twitter and Facebook.
About Mercari US
Mercari is your marketplace. Our platform connects millions of people across the U.S. to shop and sell items no longer being used. Mercari is constantly innovating to make exchanges easier, from at-home authentication to improvements in online payments and shipping. Mercari has more than 50 million downloads in the U.S. and 350,000 new listings every day, empowering the next generation to transform the way they shop. Mercari can be downloaded on app stores or accessed online through www.mercari.com.
ESPN Events
ESPN Events, a division of ESPN, owns and operates a portfolio of 35 collegiate sporting events nationwide. The roster includes four early-season college football games, 17 college bowl games, 11 college basketball events, a college softball event and two college award shows, which accounts for approximately 400 hours of live programming, reaches nearly 64 million viewers and attracts over 800,000 attendees each year. With satellite offices in more than 10 markets across the country, ESPN Events builds relationships with conferences, schools and local communities, as well as providing unique experiences for teams and fans. For more information, visit the official website, Facebook, Twitter or YouTube pages.
Lone Star Sports & Entertainment
Lone Star Sports & Entertainment is an event management company founded in 2003 that is closely affiliated with the NFL's Houston Texans. Since its founding, LSSE has established itself as one of the leading sports event promoters in the country. In addition to hosting the Mercari Texas Bowl and the Texas Kickoff annually, LSSE has emerged as a premier promoter for international soccer matches, including the 2017 Manchester Derby, Copa America Centenario, the 2010MLS All-Star Game featuring Manchester United, the 2006 FC Barcelona U.S. Tour, 2003 and 2008 matches between the United States and Mexico, and the 2005, 2007, 2009, 2011 and 2019 CONCACAF Gold Cups. LSSE has also reinvigorated the Battle of the Piney Woods presented by H-E-B rivalry between Stephen F. Austin andSam Houston State and has promoted major concerts featuring music superstars including George Strait, Taylor Swift and Kenny Chesney.
Rain the Growth Agency
Rain the Growth Agency is an independent, women-led, performance-minded, fully integrated advertising agency. We link strategy, creative and production with audience targeting, dynamic media buying and advanced analytics to achieve sales and branding goals simultaneously, without compromise. Our holistic Transactional Brand Building approach produces transformational growth for clients ranging from DTC fast companies and category disruptors to established brands with traditional models. For more than 20 years, we have been scaling businesses such as Peloton, Chewy, Wayfair, LendingTree, Humana, 23andMe, SimpliSafe and 1-800 Contacts. Headquartered in Portland, Oregon and co-founded in 1998 by Michelle Cardinal, our agency has grown to over 250 employees in four offices across the U.S.
Impression Sports & Entertainment
Impression Sports & Entertainment provides clients with full-service sponsorship sales representation, sponsorship consulting and venue naming rights services. Founded in 2011, Impression Sports is one of the leading firms in the business, led by its staff's widespread industry experience and results-driven approach. Impression Sports partners with top organizations in the sports world including USC,Florida Citrus Sports, The Independence Bowl Foundation, San Antonio Spurs, New Orleans Pelicans, Auburn University, the Fiesta Bowl Organization, USA Swimming, Sun Bowl Association and ESPN Events among others. Based in Denver, Impression Sports is owned by Home Team Sports, a sports marketing unit of FOX Sports. Home Team Sports helps fans extend love for their home teams to the brands that associate with and support them. Through its proud representation of all regional sports networks across the country and an ever-expanding portfolio, Home Team Sports provides game coverage of all MLB, NBA and NHL home teams in the U.S., reaching over 90 million homes across television and streaming platforms.
CONTACT:
Mercari: Tiffany Olson, tiffany.olson@mercari.com
Rain the Growth Agency: Steve Miller, 503-222-0025, steve.miller@rainforgrowth.com
Mercari Texas Bowl and LSSE Contact: Allie LeClair, (832) 667-2050 or allie.leclair@houstontexans.com
ESPN Media Contact: Anna Negron, (860) 766-2233 or anna.m.negron@espn.com; @ItsAnnaNegron