Remote or Paris, How about Both?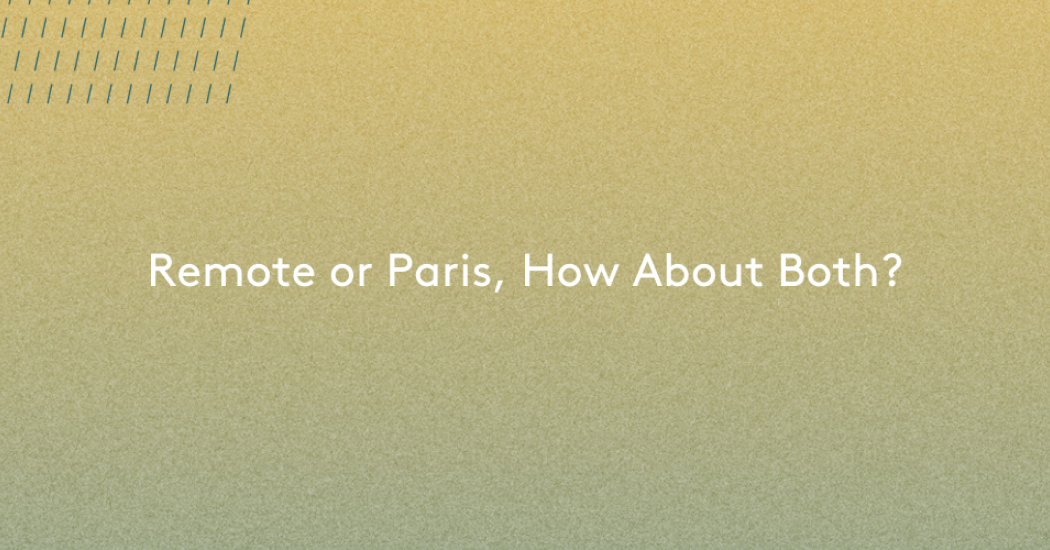 12.20.21
Michelle Cardinal, Co-Founder + Chairwoman
It's been 21 months since our company went remote. I would not have believed three years ago we would successfully be operating a high-demand client service business remotely, but we have adapted into a successful new business model. And let's face it, it's impossible to put that remote genie back in the bottle. Employees have proven they can not only work well remote, but now expect it.
So while we were thinking through our plans for re-entry these last few months, we wanted to get a pulse on what our team members want, while also shoring up our talent acquisition efforts. Like many companies, we are in a big hiring mode, and the recruiting competition is stiff. We did surveys, conducted focus groups, solicited feedback from talent management, and consulted industry experts.
Bottom line – everyone wants flexibility. Virtually nobody wants to be back in the office full-time. Most want to pick and choose when and where they engage with their colleagues. Many have moved out of town to be closer to family, nature or to just downsize their overhead.
We're seeing many of our competitors require that their teams come back to the office, which poses a big opportunity for us. We decided to lean into the power of the remote workforce and have been hiring more employees outside of our office geographies. Our employees now reside in 23 states, and over 25% have no office location nearby. This has allowed us to bring in employees with more skills and different backgrounds, while increasing diversity.
But our employees still want meaningful interpersonal interactions. We truly like and miss each other. More people, less dedicated office space, plus more and better relationship-building – how can we accomplish all that?
We have to make our time together more valuable and fun. We already had plans to renovate our Portland headquarters but we're taking that up a notch, with cutting-edge design, state-of-the-art technology and a space where our employees, regardless of where they are located, can come and find a community and a space for collaboration. We have envisioned an "always-open" hub, so people want to come, even if it's just for a few hours a week.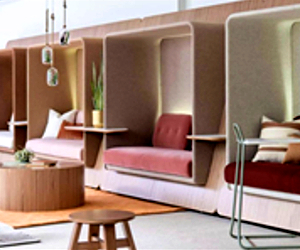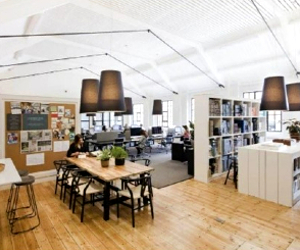 A preview of some design concepts for our new Portland headquarters space.
We've invested in the best technology, have a Rain Zoom protocol and strongly encourage our CREW be on camera as much as possible. We have had countless successful all-company town halls and virtual parties with very high attendance. We just had our second annual virtual holiday party with 94% participation. We gave away over 25 high-end raffle items and entertained the staff with a magician featured on America's Got Talent named Eric Wilzig, while employees enjoyed home-delivered comfort food via GrubHub. As a CEO, I see and engage with more staff at all levels and more clients face-to-face than ever before. I love Zoom! It has completely transformed our business relationships.
Even cooler, we're introducing a new concept; the "Pop-Up" office. We are planning to sundown our office lease agreements in Oakland, Philadelphia and Providence, and reinvest that money into gathering at interesting thought-provoking places with our teams and clients. We're thinking Napa; Park City, Utah; Miami… heck maybe even Paris!
We just had our first Rain the Growth Agency pop-up in Narragansett, Rhode Island at the Coast Guard House. Feedback was immediate and glowing:
"We were surrounded by breath-taking ocean views from breakfast to dinner, with waves crashing right in front of us! Amazing fresh seafood."
And lots of quality time to talk and get to know new team members. Someone's grandma was a Rockette, another makes three-tier wedding cakes, and several people know sign language. We have a professionally-trained ballerina and a colleague who grew up on the Nile River!
"We are just learning things about people we have sat next to for years. When can we 'pop-up' again?"
We're excited about bringing our idea of flexibility and a life well-lived to our culture. Will it work? Time will tell.
Paris anyone?