Michelle Cardinal Named One of 2023 Top Women in Media & Ad Tech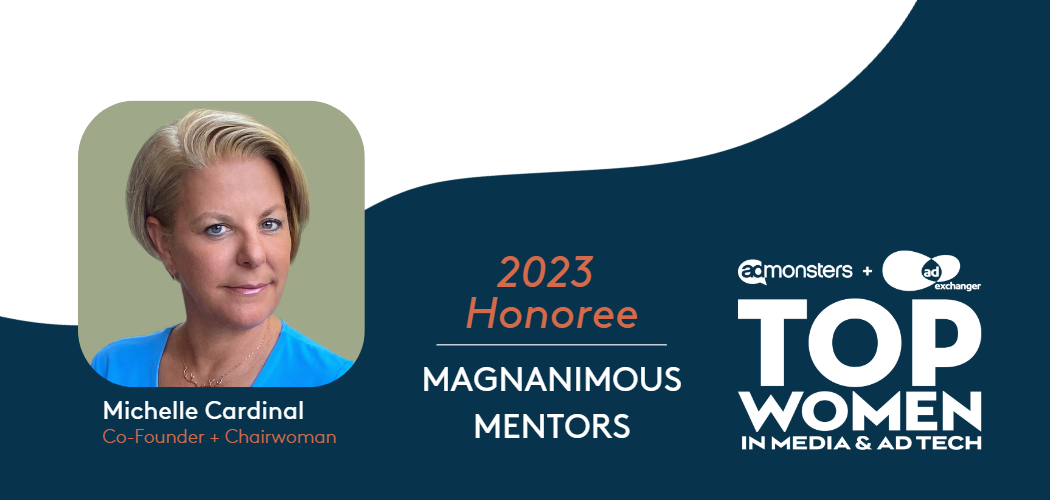 05.04.23
Rain the Growth Agency Co-Founder and Chairwoman Recognized
Rain the Growth Agency, the leading independent, performance-minded, fully integrated DTC advertising agency, is delighted to announce that Co-Founder and Chairwoman, Michelle Cardinal, has been named one of the 2023 Top Women in Media & Ad Tech by AdExchanger and AdMonsters. The Top Women in Media & Ad Tech Awards recognize, celebrate, inspire and bring together the women who are making an impact in the greater digital media and advertising technology community.
Cardinal, a long-time advocate for elevating female leaders, was recognized in the Magnanimous Mentors category. As one of the only 0.1% women founders of U.S. advertising agencies, she has made it a mission throughout her career to mentor and empower fellow female entrepreneurs and professionals at all levels of their careers in media.
"Michelle is known as a vocal, fierce, and strategic advocate for other women," said Jane Crisan, Rain the Growth Agency Chief Executive Officer. "She has always been forward-thinking in how she can help pass on opportunities to the next generation of leaders."
In 2019, Cardinal established SheScales to support female founders in scaling their companies fearlessly and improve gender equality in the U.S. business landscape. SheScales provides early-stage DTC companies with in-kind marketing consultation and business building guidance as well as elevates female founders worldwide. Since its inception, the program has helped grow dozens of female-led companies such as Carewell, Calibrate, World Pulse, Superfit Hero, Mendi and Wildfang.
Cardinal is well-known for providing mentorship to future leaders within Rain the Growth Agency and has championed programs to promote workplace equity, including the agency's flexible-first work environment and an internship program with Emerging Leaders PDX, dedicated to improving racial and cultural diversity at the leadership level in Portland-area companies. In 2022, she sponsored a new women's healthcare benefit covering employees and their partners' travel to Oregon to receive women's reproductive healthcare services if they live in a state that has rolled back access due to the overturning of Roe v. Wade.
She continues her journey of mentorship in her role as Chairwoman of the Rain the Growth Agency board, building and fostering media relationships.
About Rain the Growth Agency
Rain the Growth Agency is an independent, women-led, fully integrated and performance-minded advertising agency. We link brand strategy, creative and production with audience targeting, dynamic cross-channel media investment and advanced analytics to achieve sales and branding goals simultaneously, without compromise. Our holistic Transactional Brand Building approach produces transformational growth for our clients ranging from DTC fast companies and category disruptors to established brands. Current clients include Humana, Lending Tree, CenterWell, 1-800 Flowers, Rothy's, Headspace, 1-800 Contacts and BISSELL. Headquartered in Portland, Oregon, and founded in 1998 by Michelle Cardinal, our agency has 300 employees nationwide.
Media Contact Information:
Beatrice Livioco
Director of Marketing
Beatrice.livioco@rainforgrowth.com