1-800 Contacts Delivers Authentic Customer Stories in New Campaign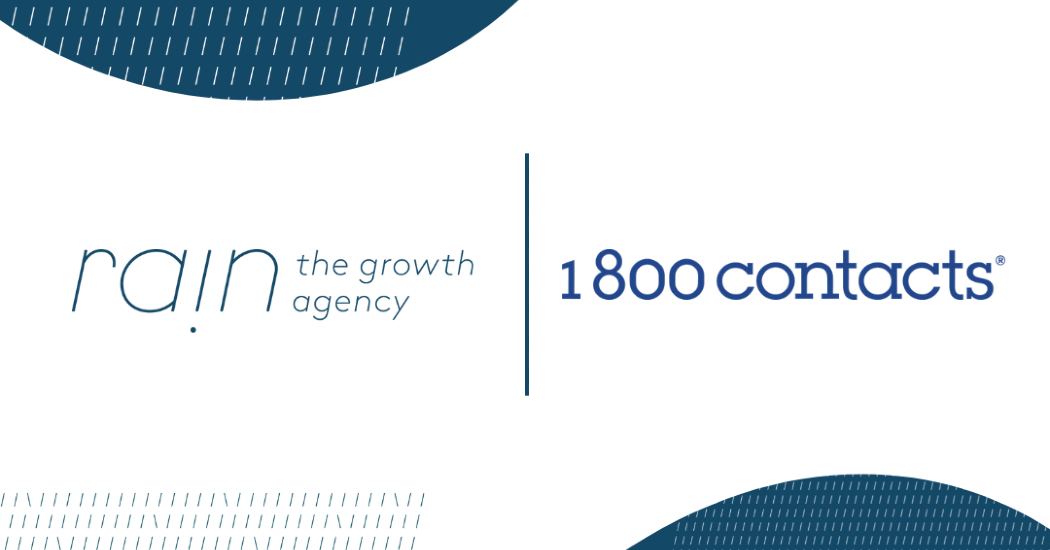 11.17.22
Rain the Growth Agency helps launch integrated campaign across channels
PORTLAND, OREGON— November 17, 2022 — Rain the Growth Agency, the leading independent, performance-minded, fully integrated DTC advertising agency, has partnered with 1-800 Contacts to launch its newest brand campaign. The campaign highlights real customer stories about the ease and benefits of purchasing contact lenses from the online retailer.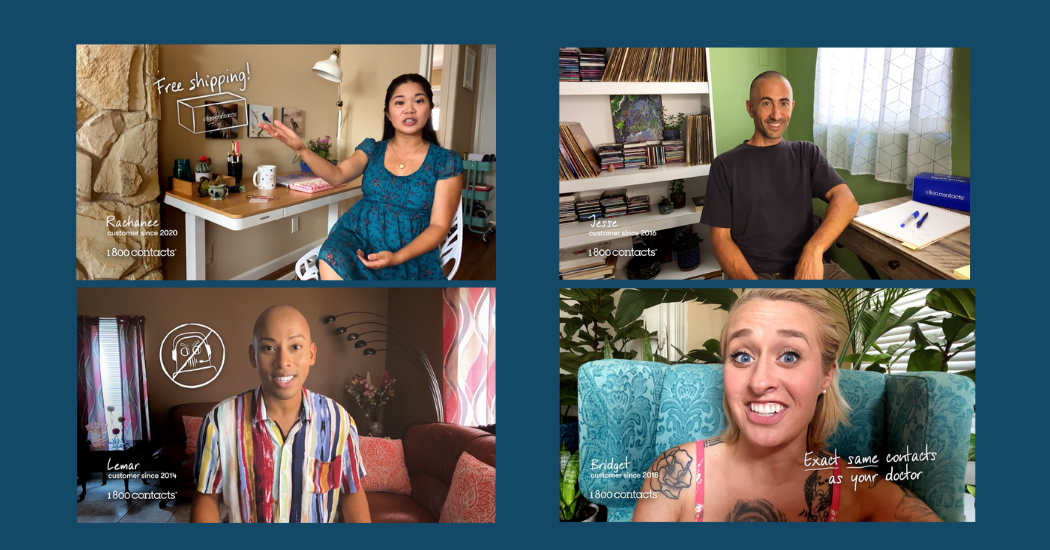 The integrated campaign instills trust in consumers that 1-800 Contacts will not only have their contacts, but the buying experience is faster and more convenient than the alternatives. The campaign creative features snippets from testimonials from a variety of customers that reinforces why 1-800 Contacts is a better way to buy contacts. Utilized and refined during the pandemic, the user-generated production style enabled authentic, relatable content delivery. The snappy spots will run across linear TV, OTT and YouTube, display and paid social including Facebook and Snapchat.
"More than 40 percent of contact lens wearers over the age of 18 have never purchased from an online retailer," said Larry Killeen, Vice President of Marketing at 1-800 Contacts. "We saw this as an opportunity to build trust and knowledge around the benefits of buying contacts direct and online – and knew Rain the Growth Agency would deliver an optimized messaging and creative strategy to help us drive this awareness with an audience-first, data-driven approach."
1-800 Contacts has partnered with Rain the Growth Agency on its brand campaigns since 2019.
"1-800 Contacts has continued to disrupt vision care and this brand campaign furthers their position as a leading provider of contact lenses," said Kyle Eckhart, Senior Vice President of Client Strategy at Rain the Growth Agency. "In the production process, we mimicked what users are used to seeing on many of the digital channels where the campaign will run. In the strategic cross-channel plan, we will expand their reach to their target audiences, and with our iSpot partnership, will be able to deliver analytics for unified measurement."
###
About 1-800 Contacts
1-800 Contacts is the original disruptor of the vision industry. The brand is well-known for efficient, high-quality, and delightful customer service and has advocated relentlessly on behalf of customers, paving the way for a new generation of DTC brands. 1-800 Contacts is the largest seller of contact lenses in the U.S., serving more than 20 million customers over the last 27 years. The growing portfolio of innovative 1-800 Contacts brands includes Liingo Eyewear, 6over6, Boomerang, and Premium Vision.
About Rain the Growth Agency
Rain the Growth Agency is an independent, women-led, performance-minded, fully integrated advertising agency. We link strategy, creative and production with audience targeting, dynamic cross-channel media investment and advanced analytics to achieve sales and branding goals simultaneously, without compromise. Our holistic Transactional Brand Building approach produces transformational growth for clients ranging from DTC fast companies and category disruptors to established brands with traditional models. For more than 20 years, we have been scaling businesses such as Peloton, Chewy, Wayfair, Headspace, Humana, USAA, 23andMe, SimpliSafe and 1-800 Contacts. Headquartered in Portland, Oregon and co-founded in 1998 by Michelle Cardinal, our agency has grown to over 250 employees nationwide.
Media Contact Information:
Beatrice Livioco
Beatrice.livioco@rainforgrowth.com