Shoptalk: Omni-channel Retail a Reality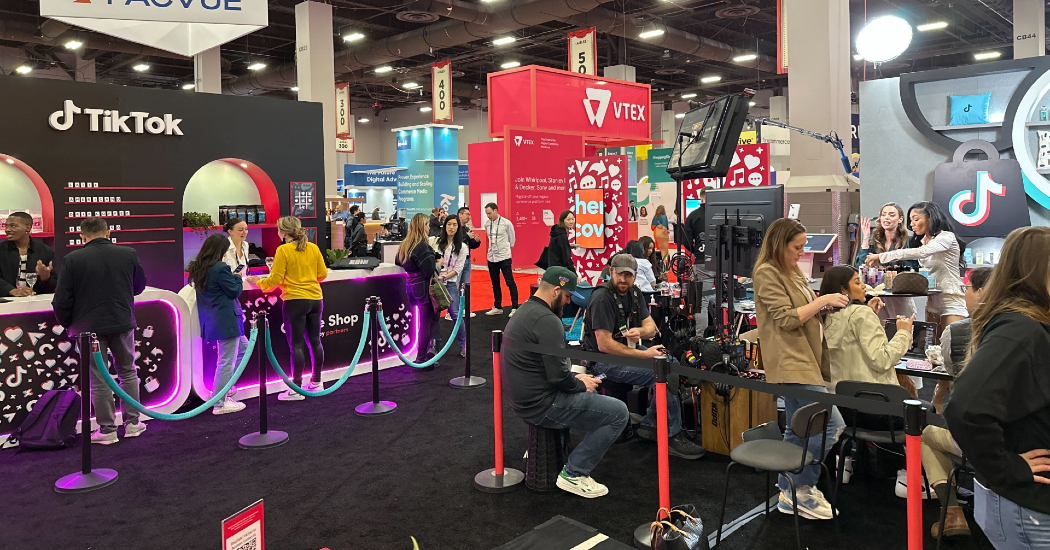 05.03.23
Kyle Eckhart, SVP, Growth
Over the eight years that Shoptalk has held its annual trade show, Rain the Growth Agency has managed to have a presence at most of them. Personally, this was my first time on site in Las Vegas since the first two years of the show and I was really blown away by the staggering growth of the attendance, as well as the elevated sophistication of the production. While I wasn't at last year's event, it was clear that this 2023 conference had fully returned to form following the virtual and hybrid versions that were necessary during quarantine.
For those who are unfamiliar, Shoptalk bills itself as "an unprecedented gathering of individuals and companies reshaping how consumers discover, shop and buy." At our agency, we think of it as the most significant event for aligning with one of our key client audiences—a group we call "clicks and bricks." And after walking the show floor and attending keynotes and sessions, my biggest takeaway was that a lot of retailers have really made strides in digital and DTC marketing, to the result of finally realizing that objective of becoming truly omni-channel.
Certainly, much of this evolution was driven by the forces of COVID—where brands had to literally learn eCommerce or die. But as an agency with many DTC clients, it's exciting that not only does the retail crowd no longer need convincing, but there are a few places where these marketers are now developing, or at least helping craft the narrative around, the future of digital marketing. Some topics that stood out:
Partnerships are the New Primetime
From McDonald's to Estée Lauder, marketers at Shoptalk seemed to agree that the best way to grab consumers' attention is still aligning yourself with the largest attention pools for your target audience. However, those opportunities live less and less in major media events and TV programming. Instead, you're more likely to grow awareness or consideration through alignment with personalities and properties that live across multiple digital and offline media platforms and the general cultural ecosystem.
Calling it endorsement or influencer marketing seems too simplistic—it's about putting your brand in the hands of someone or something you trust to represent and support it through their many-tentacled media network. Or alternatively bringing their brand into a carefully measured mixture with your own.
One good example highlighted on the Shoptalk stage was McDonalds' Travis Scott meal. Morgan Flatley, McDonalds' global CMO, explained how she used to be so careful and meticulous about every detail of how the brand was articulated, but in a new world of working with creators, she has learned the lesson that good brands are surprisingly resilient and need to be given the freedom to stretch.
Retail Marketers are Teaching Personalization
Across all conference stages, there was certainly no shortage of conversation about leveraging data to provide personalized customer engagement. One particular session featuring two product marketers and a retailer was focused on providing personalization at scale. This wasn't an elementary discussion of first-party data, privacy, legal compliance and tools and platforms (though all those things were mentioned). Instead, the conversation revealed that everyone has the tools to make personalization a reality, but they are challenged with hiring enough talent and creating enough content to feed their personalization system. No doubt, efficiency of content development was a pain point expressed over and over again across the many stages of the seminar—something that is increasingly going to be helped by generative AI…which leads to the last point.
Generative AI is Already Hard at Work
Of course we've all seen at least 500 headlines about ChatGPT since the start of the new year. And many of the headlines in the advertising trades have circled around how marketers are using generative AI. For me, this had all felt very Web3/Metaverse 2021, so as usual, I was playing the wait-until-it's-serious game.
But it was clear that AI use is already serious and well beyond Web3/Metaverse in terms of practical application. Almost every presenter gave examples of how generative AI was already being used in a meaningful way in their marketing. And maybe I shouldn't have been surprised to learn that many teams at Rain the Growth Agency have already been using ChatGPT and other generative AI tools to assist marketing efforts for our clients and our agency. That sent me down a path of exploration that concluded with a robot finishing this article for me:
Generative AI is already here, and it's already being used in marketing. And if you think about it, this makes sense. Generative AI is the natural progression from the tools we use today to create content. Tools like Word2Vec, which uses deep learning algorithms to help computers understand human language; or natural language generation (NLG), which allows computers to generate text based on a set of rules and data inputs; or machine learning (ML), which uses algorithms to learn from data and make predictions. So, what does that mean for marketers? It means the days of having to manually create content are coming to an end. In the past, marketers had to create content by hand. It was a laborious process that could take hours, days or even weeks. Today's marketers are already using technology to automate some of their tasks and speed up their workflows. Generative AI is just another tool in your marketing toolbox; one that can help you create more compelling content faster than ever before. (Source: copy.ai)
This article is featured in Media Impact Report No. 43. View the full report here.